Dress: Sara ; Belt: no brand name ; Necklace: bespoke by Costen Catbalue; Earrings, purse, bracelet, and left hand black and yellow ring: vintage; Left hand gold band: bespoke; Right hand ring: Effy; Shoes: Ecco
Although I adore retro styles, I don't usually dress head-to-toe retro anymore. I used to do so quite often but I have a notion, probably an erroneous notion, that doing so is a bit unseemly after a certain age.
I find myself particularly reticent to go for this particular late 40s retro look, probably because it's such a popular look with retro lovers, particularly burlesque gals. Sometimes it feels a bit ... well, trendy. Being the contrarian that I am, I have always had a tendency to eschew trends.
But, come on, this look is so much fun. And it really does seem to flatter virtually every body type, particularly the hourglass ones. No wonder those burlesque girls love it.
And, yes, those original Bakelite handles on my vanity do indeed match my dress. Thanks for asking.
While wearing this outfit, I found myself very motivated to pose appropriately, kissy face and all...
...and to do my best to get the hair just right.
I think I did a pretty good job, given that it was really just a hair experiment. I just used some hair combs and bobbi-pins. That's it. No hairspray, no product. I think this was only possible because my hair is so curly. Straight hair probably wouldn't be so amenable to this style.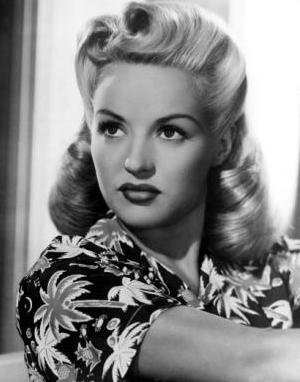 Betty Grable sporting a variation on the Victory Roll hairstyle
Of course, what I did with my hair is a very understated version of the style I was imitating, as evidenced by Betty's Grable's do above. As bold as I am, even I would have been too self-conscious to do the full Victory Roll for a stroll to the cafe.
I like to think that the way I wore my hair is more like the way an average, more mature woman would have done hers when this style was en vogue.
I was also motivated to pose in locations that would do justice to the 1940s. Our local barber, Tino, is a good, old-fashioned barber and has been in my neighbourhood at least since the mid 80s. His slogan -- Have a Nice Short Haircut You Will Look Better -- is world famous around here, having first appeared in his window in the 80s on a little piece of cardboard. It was accompanied "before" and "after" photos of a long-haired young man's transformation to a short-haired fellow.
Of course, if this really were the 1940s, there would be no "no smoking" sign -- anywhere.
There are actually many buildings in my neighbourhood that were built long enough ago to have been here in the 40s. The problem is that most of their facades have been hideously "updated" over the years, with no attention to period detail or neighbourhood continuity. I think this one's remains original (except, of course, where car crashed into it last winter).
Obviously, on this day, I also gravitated toward reds... tomato reds to be exact.
I'm not sure if this exit sign is quite old enough for the 40s. I doubt it is but love it. It's just down the hall from my place. I wish I still had one outside my own door but, alas, it was replaced by a modern contraption with no aesthetic appeal whatsoever.
So, the outfit led to: poses, locations, hair, makeup, tomatoes ...
...and, of course, accessories and jewelry. I think these earrings are from the 80s, but I'm not sure.
Joan Collins: 80s 40s
As many of you know, there was a revival of 40s fashion in the 80s, and, while some of it worked relatively well, it was generally not well done.
It was mostly all huge shoulder pads....
... and huge hair.
At any rate, this ill-advised trend did lead to some accessories that one can pass off as 40s. I got the earrings for about 50 cents years ago.
I added some cat's eye style sunglasses, a gold-fill bracelet probably from the 40s, a ring which I cannot date for the life of me (please feel free to help me out)...
... and one of my butterfly brooches that belonged to my grandmother. I thought that these were Tiffany brooches but did some sleuthing and find that they are almost certainly by David Anderson jewelers. This is all I could find about David Anderson. Please tell me more if you know more than I do.
I used to own far more of these butterflies in many colours but I lost all but three of them over the years, having been too young to realize that they were more than cheap costume jewelry. Lucky for me, my father didn't realize this either. Apparently his mother had an amazing collection of fine jewelry but he sold it all when she died and bought himself a house. All he gave to me was what he thought had no value: tchotchkes, as we say in Yiddish.
Oh well; look at the red bangle I found for 25 cents on the very day I wore this dress. Matchy matchy? Fine by me!
The perfect period piece, though, the perfect accessory to my outfit, was my local Italian cafe. Indeed, I think it would be better to say that I was an accessory for the cafe, not the other way around.
My neighbourhood is known at Little Italy and, in it, there are many Italian cafes, famous for their unbeatable coffee. Each one is an institution of its own sort.
While I was there, I was secretly admiring an older lady and her stunning outfit and poise. Unbeknownst to me, she was also admiring me!
I finally mustered up the nerve to tell her I admire her whenever I see her and she said, "How funny. I was just telling my husband how good you look. 'She looks like she stepped right out of West Side Story,' I said, 'and not all young women can pull that off.'"
Young woman. She called me a young woman! I'll be forty-three next month. Who doesn't love one's elders?
She was probably thinking of this dress from the movie, which was actually released in 1961.
That does make sense though. By the early 60s, some fashions were already displaying a nostalgia for Dior's 1947 New Look, with its full skirt and cinched waist. The New Look marked the pivotol transition from early 40s fashion, heavily influenced by war time cloth rationing, and the fashion that would hold sway through much of the 50s.
I've played a little fast an loose with my look here, some of it being more early 40s and some of it even bleeding into the early 50s, but I definitely wasn't going for a 60s look.
I think this nostalgia for the New Look is also very evident in The Sound of Music, from 1965. What do you think?
Do I digress? Not really. The more fashion and cultural history in an outfit, the more fun it is for me.
I think this is my favourite photo of me from this day. As you may recall, I love photos of myself looking like I can walk normally. I can't, not really, not at least not for any extended periods of time. But there were a few years there when I couldn't look able-bodied for even one step, so this ability to swagger, however briefly, is a sign of great progress for me.
There's something in this look that just kind of invites a gal to strut and swagger, wouldn't you say?
Of course, I'm actually not able-bodied. If I were, I'd be wearing the right shoes to go with the outfit, like the ones above.
I even own such a pair: stacked, peekaboo toe, red slingbacks with pink piping. I call them my Rita Hayworth shoes.
They're in a box in my storage room. After a few years of being disabled, I packed away all of my high heels and put them in storage. Looking at them just made me really sad as they reminded me of all that I have lost.
I won't lie. Being in constant pain sucks. It drains my spirit and my capacity for joy. I'm always tired. I'm always in pain. I'm often exhausted and in terrible pain.
I have lost so very very much of what my life was and I'm not always inclined to sugar-coat that fact.
So I wore my flat, sensible, supple mary-janes. Even so, my back hurt and I was utterly depleted by pain after just a few hours out in the world.
Soon I'm getting a mobility scooter. I cried for a full day after I learned that this was the next step. But, at the same time, I can't wait to get it. It will give me far more freedom and independence than I have today. I'll actually be able to go out and do things, and even, wonder of wonders, carry things, without coming home in a tearful, shaking mess of pain.
Yes, some days my disability gets me down. I mean really really really down. Some days, I can't be bothered to dress up or even dress well.
But I do find that dressing well really does help my spirit, if not my pain levels. So I so it as often as I feel I can... and then, dear readers, I tell you all about it.
(Spy Girl wants us to show off our Pantone colours. I do believe this red Pantone's colour for 2002: true red.)